A Unique Dry Powder Mixer for processing Industries from Toshniwal
Category : Twin Shaft Paddle Mixer / Posted on : October 20, 2016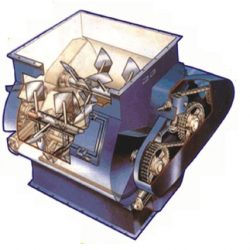 Dry powder blending is at the heart of many processing industries today, Yet it is most likely the least understood of all the processes. Mixing and blending of dry ingredients occurs frequently in food processing industries such as
Instant Drinks,
coffee/tea vending premix,
Glulab Jamum mix,
Spices,
Cereals,
Bakery Premix etc.
Yet the uniqueness of each individual product formulation, Usually means that no two blending processes are ever the same.
From the basic blending of two similar materials to the blending of many Different ingredients with different characteristics, today's mixers have a wide Variety of possible applications. Although mixing and blending technology has greatly improved over the years. And many blenders are now capable of mixing of all kinds of powders, the Processes of selecting the best blender and the correct overall system design of specific application, still remains an art form because of many Variables.
In today's "Lean Manufacturing " environment, it is more critical than ever That careful consideration is given to blend times, equipment flexibility, Product segregation i.e demixing of the blended product in post blending.
Toshniwal offers new generation powder mixer wherein you get a homogeneous mix in a very short time (30-60 seconds) for dry powder.
Facility is available for spraying liquid for uniform coating on powder/pellets as well as lump breaker.
The other salient features are high degree of precision mixing upto10 PPM, low energy cost per ton of mix, high production output with a small batch mixer, fast discharge of mixed material through two large Bombay Doors avoiding segregation of mixed material, negligible maintenance etc.
Further details from:
M/s. Toshniwal
267 Kilpauk Garden Road Chennai – 600 010, INDIA
Phone : 91-44-26445626 / 26448983 / 26448558
Fax No. : 91-44-26441820
Email : sales@toshniwal.net
Web : www.toshniwalindia.com