Toshniwal Mixer
Category : Twin Shaft Paddle Mixer / Posted on : October 13, 2016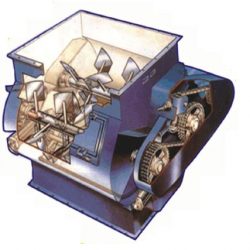 Toshniwal offers new generation powder mixer which gives a homogeneous mix in a very short time (30-60 seconds) for dry powder.
The mixer has a facility for spraying liquid to ensure uniform coating on powder / pellets as well as lump breaker.
The other salient features are high degree of precision mixing upto10 PPM, low energy cost per ton of mix, high production output with a small batch mixer, fast discharge of mixed material through two large Bombay Doors avoiding segregation of mixed material, negligible maintenance etc.
The mixer is ideally suitable for Food Products like: Instant Drinks, coffee/tea vending premix, Glulab Jamum mix, Spices, Cereals, Bakery Premix etc.
Further details from:
M/s. Toshniwal
267 Kilpauk Garden Road Chennai – 600 010, INDIA
Phone : 91-44-26445626 / 26448983 / 26448558
Fax No. : 91-44-26441820
Email : sales@toshniwal.net
Web : www.toshniwalindia.com