Toshniwal Mixer
Category : Twin Shaft Paddle Mixer / Posted on : October 20, 2016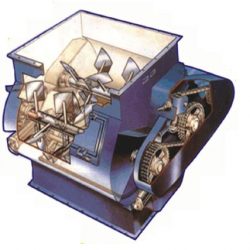 Toshniwal Mixer is a new generation powder mixing equipment that helps to meet the customers modern times demand such as,
Reduced sources and achieved excellency in quality improvement,
Low power consumption higher yield ,
Short time operation with reduced maintenance cost.
These mixers are ideally suitable to handle solid, powder, flaky materials etc. Hence it is widely used in applications such as food, animal feed, construction chemical, refractory industry and so on. Apart from hematogenous mixing it also helps in achieving the desired technical performance in the final product and it's subsequent application.
At Toshniwal, our main aim and objective is to provide our very best service and commitment to our customers all over. With sales, engineering and service centers we are ready to provide you with the quality products, quick response, and experienced support to solve your problem.
Further details from:
M/s. Toshniwal
267 Kilpauk Garden Road Chennai – 600 010, INDIA
Phone : 91-44-26445626 / 26448983 / 26448558
Fax No. : 91-44-26441820
Email : sales@toshniwal.net
Web : www.toshniwalindia.com